30 teams took part in the 2022 online competition which was won by a team from the University of Sussex. Congratulations to George Grammer-Taylor and Samantha Smith and their coach, Jeanette Ashton. 12 teams progressed to the finals from six regional competitions. Teams from Hull, Sussex and Swansea then progressed to the final round. Congratulations to the joint runners=up: Stephanie Louth and Leila Bolton from Hull, and Hailey Doyle and Chloe Gear from Swansea.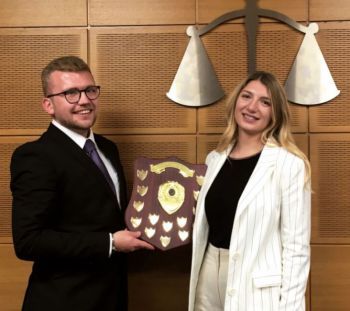 Oxford Regional: 1st Sussex, 2nd Bournemouth. Teams not progressing: UCL, Leicester, Coventry.
Nottingham Regional: 1st West of England, 2nd Hull. Teams not progressing: Reading, Cardiff, Sheffield.
Sussex Regional: 1st Essex, 2nd Chichester. Teams not progressing: Plymouth, South Wales, Newcastle.
Middlesex Regional: 1st Oxford Brookes, 2nd Law Nottingham. Teams not progressing: Law Moorgate, Law Sheffield, Warwick.
South Wales Regional: 1st Swansea, 2nd Nottingham Trent. Teams not progressing: Brighton, Middlesex, Northumbria.
Essex Regional: 1st Sunderland, 2nd Staffordshire. Teams not progressing: Exeter, Birmingham, Kent.