2018 Finals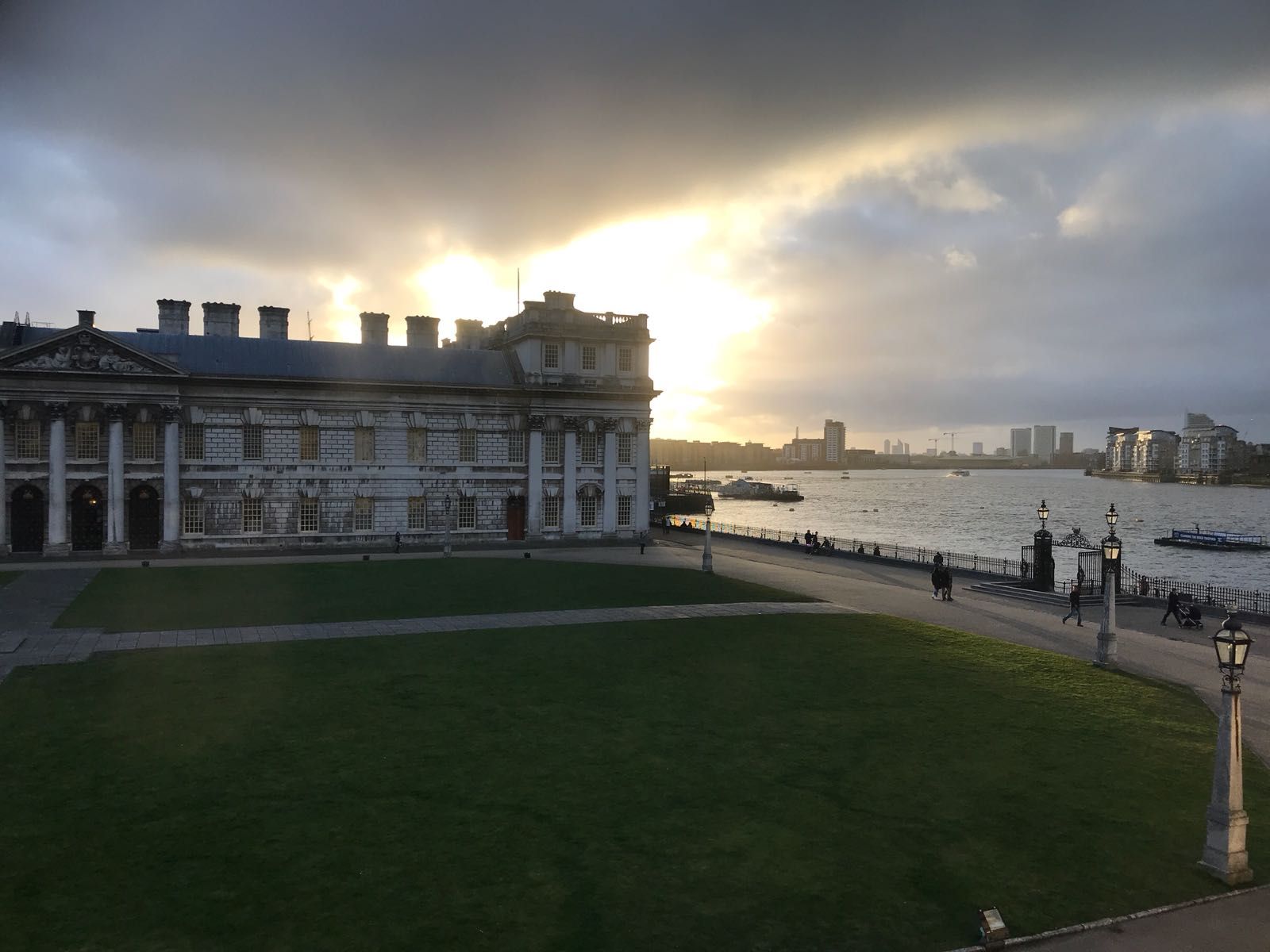 The 2018 finals were held at The Old Royal Naval College at The University of Greenwich on 10th March 2018. Many thanks to Edward Phillips and the Law School for their hospitality, organisation and amazing buildings.
10 teams qualified for the finals from the three regional events: Birmingham, Bristol, Derby, Keele, Law (Moorgate), Manchester Met, Oxford Brookes, Royal Holloway, UCL and West of England.

After each team had finished three interviews and all the scores tabulated, the competition was won by Helena Goddard and Chris Wells, GDL students from Oxford Brookes University and coached by Marc Howe. The University of the West of England were runners-up. Their team was Adam Hobson and Josephine Hebestreit. Nicolas Pittarides and Melissa Igbineweka representing the University of Law (Moorgate) came third.

Full results are available here.
Oxford Brookes represented England & Wales at the Brown Mosten International Client Consultation Competition at the University of Maastricht, The Netherlands from 11-14th April 2018.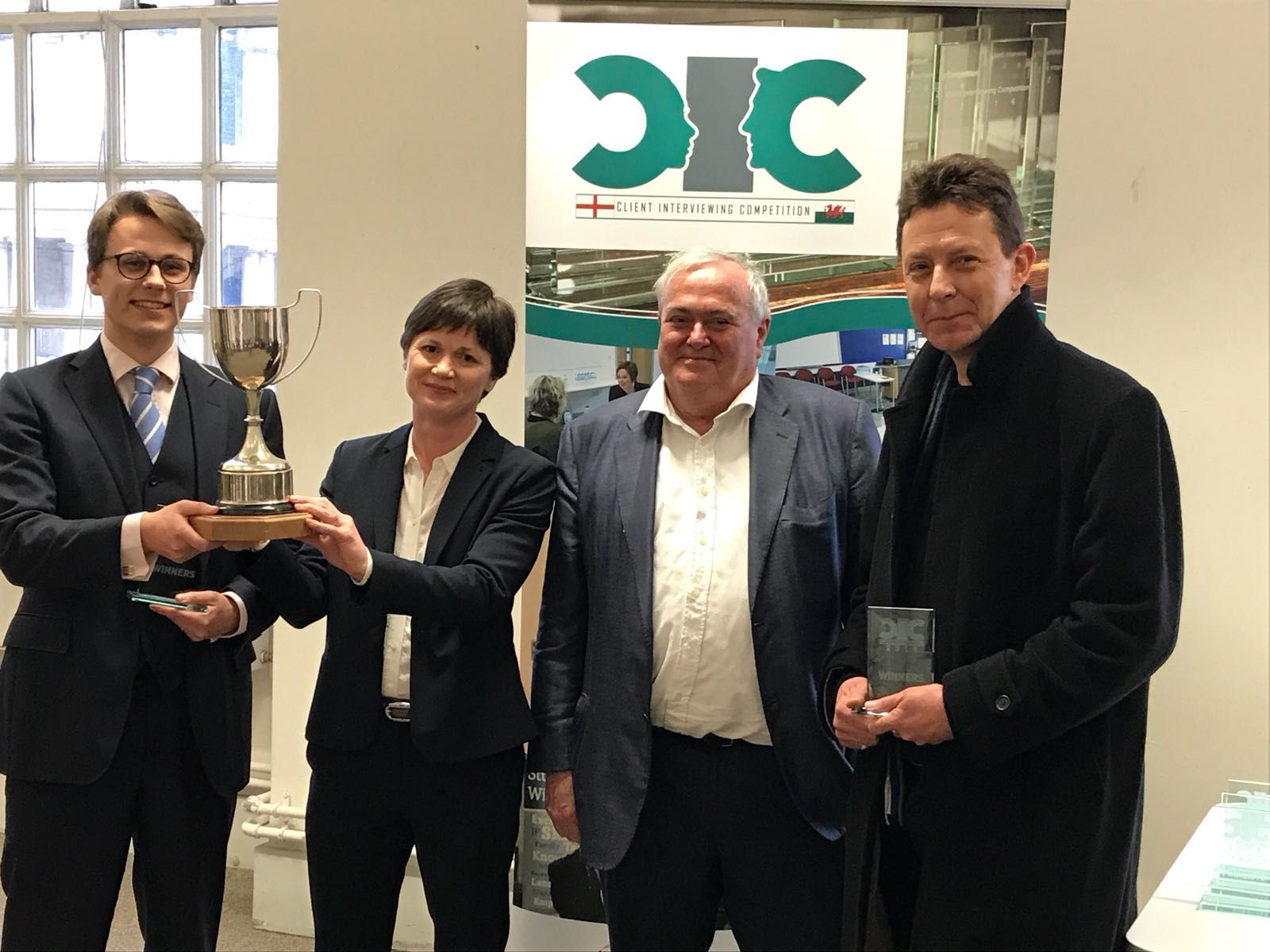 The Oxford Brookes team with Allan Murray-Jones
The event was sponsored by The Law Society of England & Wales and presentations made by Allan Murray-Jones,

Chair of the Education and Training Committee.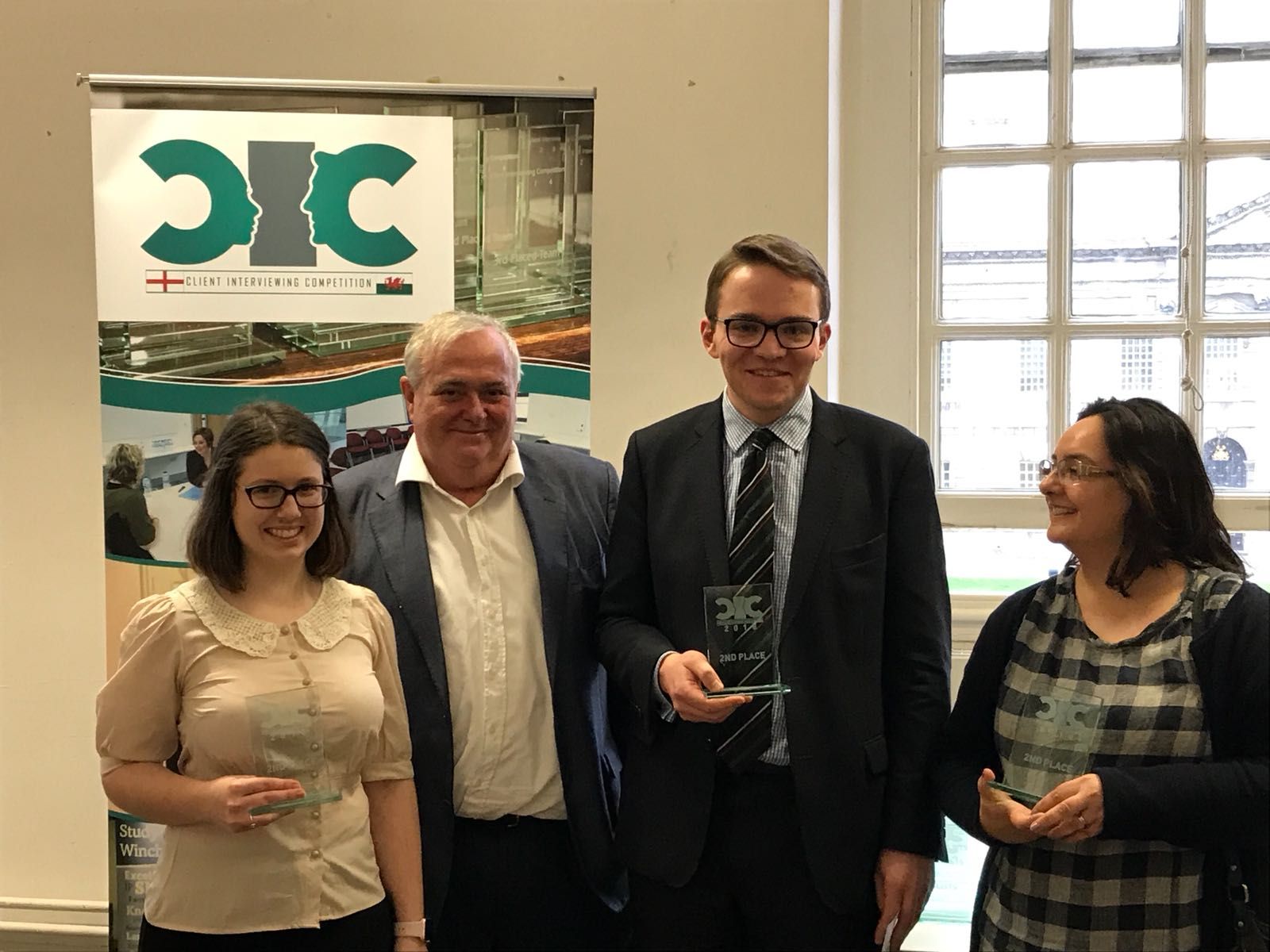 2nd placed team from the University of the West of England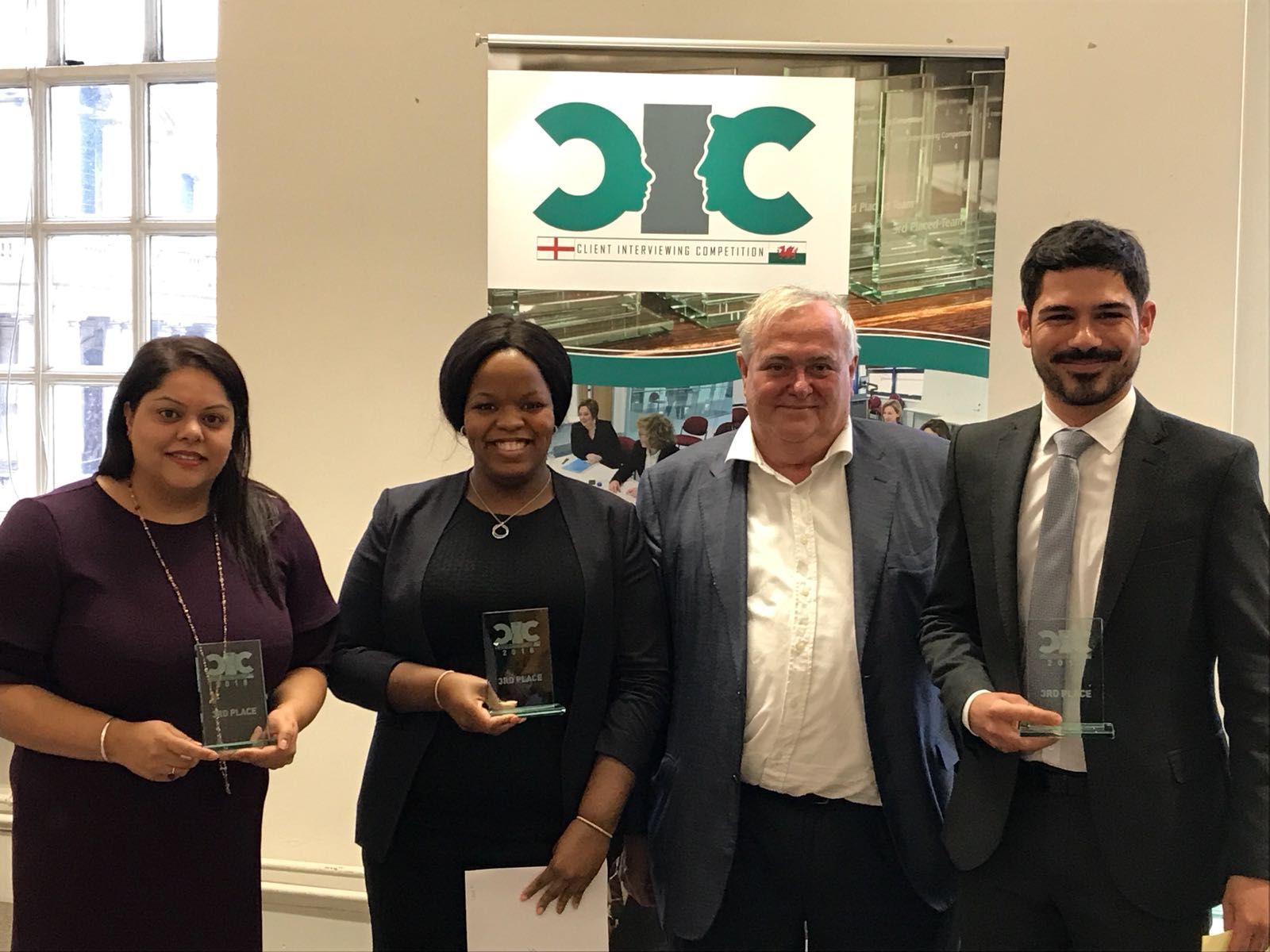 3rd placed team from University of Law (Moorgate)

2017 National Competition: The winners of the 10 regional competitions undertook a gruelling series of interviews with clients on Saturday 11th March, hosted by law firm Ashfords at their Exeter offices. They had to deal with japanese knotweed, pit bull terriers -and a neighbour of doubtful morals.All the students taking part were congratulated by Rory Mac Neice, partner and Head of the Dispute Resolution Team at Ashfords. Tom Faulkner and Ryan Cornelius from Plymouth University won the 2017 national competition and were awarded the trophy by Allan Murray Jones. Jemma Nelson and Amy Bell from the University of Sunderland were placed second by the narrowest margin possible. Amber Sutton and Rebecca Orton from the University of Derby were third. Plymouth represented England & Wales in the international competition in Canterbury from 19-22 April.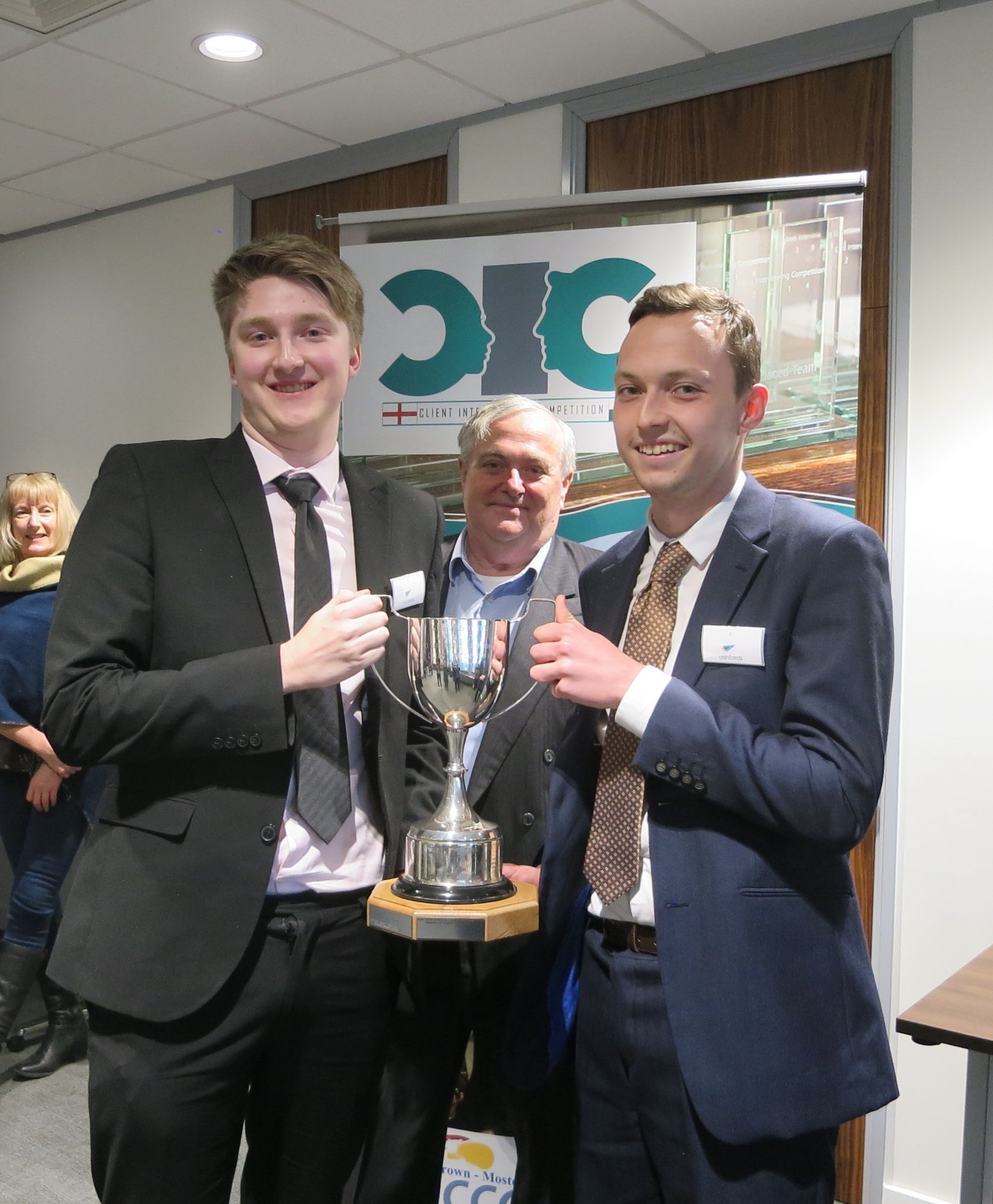 The Plymouth team of Ryan Cornelius and Tom Faulkner (Allan Murray Jones behind).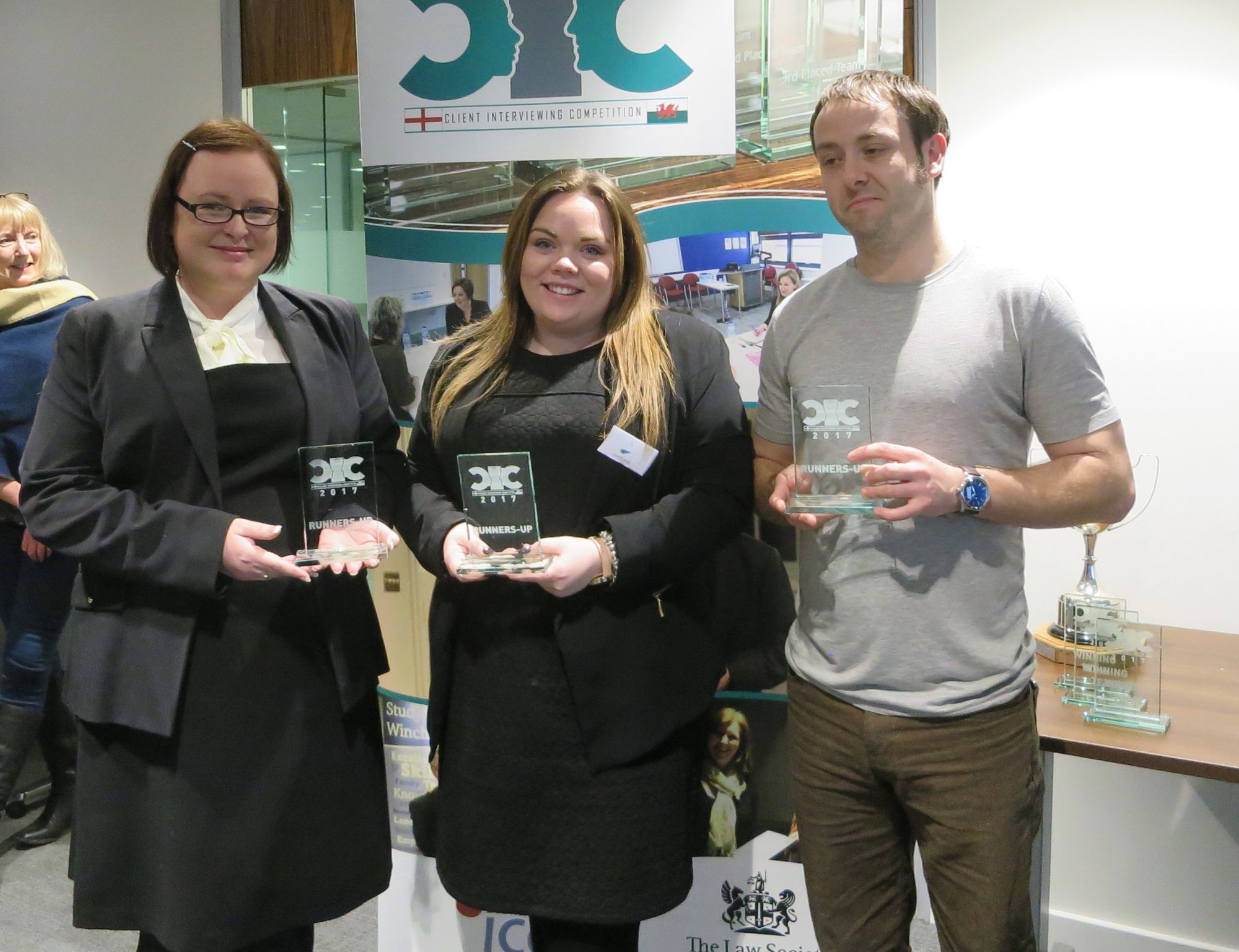 Sunderland team of Jemma Nelson and Amy Bell with coach Chris Baldwin.


Derby coach Dave Hodgkinson with team members Amber Sutton and Rebecca Orton.